Bike Month: Time for Massachusetts to Think About Safety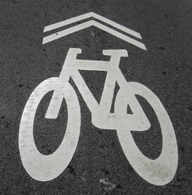 This is National Bike Month, when cyclists gather for events and rides all over the country. In Massachusetts, the busiest time is during Bay State Bike Week, which began last weekend. Cyclists from Boston to Springfield to Cape Cod are being encouraged to pedal to and from work in the name of fitness and reducing traffic congestion on the roads.
But along with the fun, Bike Month is a time to ask ourselves and lawmakers if we can make the roads safer to prevent personal injury to bicyclists.
While Boston has been called a world-class cycling city in recent years, safety advocates say we can do better. This month, the League of American Bicyclists dropped the state's ranking from third to sixth in its 2013 Bicycle Friendly State Rankings, offering these and other suggestions to state officials:
Safe Passing Law. Adopt a safe passing law with a minimum distance of three feet to address bicycle safety.
Vulnerable Road User. Adopt a vulnerable road user law that increases penalties for motorists that injuries or kill bicyclists or pedestrians.
Cell Phone Ban for Drivers. Pass a cell phone ban for all drivers. Currently, Massachusetts bans all drivers from texting while driving but only bans drivers under 18 from talking on their cell phones and driving.
Bicycle Riders Manual. Create a statewide bicycle riders manual with laws, state bike routes and laws for cyclists.
MassBike, the state's leading advocacy group for cyclists, has been seeking passage of a vulnerable road users bill that increases penalties for drivers who injure or kill a bicyclist or others defined as a vulnerable road user. MassBike first filed a bill with the Massachusetts Legislature in 2011 and refiled a few months ago for the start of the new legislative session.
Under the bill, drivers found guilty of crimes such as motor vehicle homicide or hurting or killing a person while driving drunk would face double the normal fines if the victim is considered a vulnerable road user.
The bill defines vulnerable road users as "a pedestrian or a person operating a bicycle, handcycle, tricycle, skateboard, roller skates, in-line skates, wheelchair, non-motorized scooter or any non-motorized vehicle, or a person riding a horse."
Additionally, the bill would require violators to take a traffic class and perform 100 hours of community service related to road safety. There would be special penalties for drivers who harass vulnerable users with their vehicles. Meanwhile, victims would be given guidelines for filing civil lawsuits against drivers who assault or threaten them.
Another bill proposed by MassBike is the Bicycle Lane Bill, which would make it a violation for a car to park or stand in a marked bike lane. Boston and some other communities have bans, but MassBike seeks a statewide ban.
Read about other bills filed and supported by MassBike.
About Breakstone, White & Gluck
The Boston bicycle accident lawyers at Breakstone, White & Gluck have over 85 years combined experience handling bike cases in Massachusetts. If you have been injured, it is important to learn your rights. For a free legal consultation, contact us today at 800-379-1244 or 617-723-7676 or use our contact form.