Distracted Driving Lessons in Massachusetts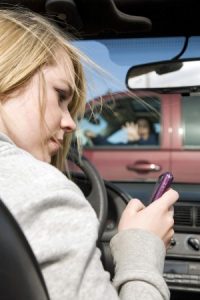 This month, students at four high schools in Massachusetts will sit down at computer simulators and learn what it feels like to text or use a cell phone while driving and then crash.
This is part of Arbella Insurance Foundation's Distractology 101 program, which will visit Braintree High School, Phillips Academy in Andover, Falmouth High School and Sacred Heart High School in Kingston. Although the young drivers will not actually suffer or cause injury, or feel the remorse of having caused the collision, they will be taught the lesson that distracted driving behaviors, such as cell phone use, using a GPS and even eating and drinking, can result in car accidents and serious injuries. These behaviors should be considered as or more dangerous than speeding or running a red light.
Consider these statistics from the National Highway Traffic Safety Administration (NHTSA):
10 percent of all fatal crashes in 2011 were reported as distraction-affected crashes (3,331 people killed).
Among those who were killed, 12 percent died in a car crash which involved cell phone use.
Some 17 percent of all injury crashes in 2011 were reported as distracted-affected crashes (or 387,000 people injured).
Among those who were injured, 5 percent were injured in a car accident which involved cell phone use.
Laws have been implemented to reduce the dangers caused by distracted driving. While no state bans all drivers from all cell phone use, hand-held cell phone use is not permitted in 15 states, including Vermont as of Oct. 1.
Laws related to texting while driving are much more prevalent. Texting while driving is now against the law in 44 states. Washington passed the first ban in 2007. Massachusetts implemented its law four years ago. The law, St. 2010, c. 155, bans texting by drivers, including reading, writing or sending messages. Drivers cannot text while driving or sitting at red lights, intersections or other public ways. This is a primary offense, meaning police can pull drivers over when they suspect the behavior, even without any other cause.
Despite these laws, drivers here and in other states still text and check their social media accounts. Younger drivers under 25 are two to three times more likely to text or e-mail while driving than others, according to the NHTSA. But these violations are not limited to young drivers, as the evidence is that older drivers are also engaging in this prohibited behavior.
Fortunately there is some evidence that these laws are starting to work. Recently The Journal of American Health reported that traffic fatalities had dropped 3 percent in states which have primary enforcement laws like Massachusetts. States that ban younger drivers from texting while driving saw an 11 percent drop. The journal studied national traffic data over 11 years.
States may continue to pass laws to reduce distracted driving, but drivers carry responsibility for putting down the phone and becoming aware of other distracting behaviors, such as eating and drinking, talking to passengers, grooming, reading maps, using a GPS, watching a video or adjusting a radio or music player.
There are some good safety resources out there to help families understand the problem and the attitudes and behaviors that contribute to it. We encourage you to take a look and share them with your colleagues at work and with your family, friends, and children.
For More Information
About Breakstone, White & Gluck
The Boston motor vehicle accident lawyers at Breakstone, White & Gluck have over 100 years combined experience representing clients seriously injured in car accidents. If you have been injured, it is important to learn your rights. For a free legal consultation, contact us at 800-379-1244 or 617-723-7676 or use our contact form.