Defective Toy Truck Recalled by Fisher-Price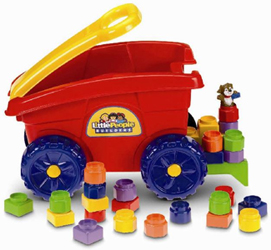 Fisher-Price has recalled a popular toy truck after its plastic handle has been found to pose a laceration risk.
The East Aurora, New York toymaker recalled its Little People® Builders' Load 'n Go Wagon in cooperation with the U.S. Consumer Product Safety Commission (CPSC) and Health Canada this week. About 208,000 defective toy trucks were recalled in the United States and 2,800 in Canada. The toy trucks were sold in mass merchandise retail stores nationwide from June 2009 through July 2011 for about $25. They were manufactured in Mexico.
The toy truck is being recalled because its plastic handle has molded-in reinforcement. If a child falls on it, he could suffer a laceration.
The CPSC and Fisher-Price are aware of seven reports of personal injuries. Five reports came from children requiring surgical glue or stitches.
Consumers affected by the Fisher-Price recall can call 800-432-5437 or visit www.service.mattel.com for a free repair kit. The recall involves the wagon with the model number P8977. More information is available on the Mattel website.
Product recalls and deaths related to unsafe toys have declined in recent years, but toy-related injuries have been increasing. In 2009, 186,000 children under 15 were treated for toy-related injuries in emergency rooms, up from 152,000 in 2005.
In 2009, 12 children under 15 suffered wrongful deaths involving defective toys, a 50 percent decrease over the two prior years. Meanwhile, in 2010 there were 44 toy recalls, a significant drop from 172 in 2008.
The CPSC offers a few tips for parents: purchase age-appropriate toys, include safety gear whenever you buy sports equipment and ride-on toys and always be aware of your child's location during play. Parents should also closely inspect toys prior to giving them to children.

The Massachusetts product liability lawyers at Breakstone, White & Gluck are experienced in handling cases involving defective toys and recalled motor vehicle cases resulting in serious injuries. If you have been injured, contact us today for a free legal consultation at 617-723-7676 or use our contact form.