December Product Recalls Include Holiday Decoration, Baby Carrier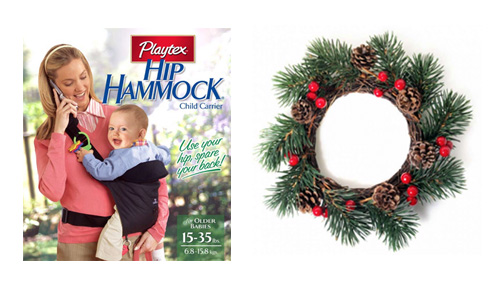 The Consumer Product Safety Commission (CPSC) announced several recalls last week, including a popular holiday decoration and two children's products. The commission also announced its annual list of winter-related products which were recalled during other seasons.
Yankee Candle Ring
The Yankee Candle Company recalled about 15,000 pine berry candle rings in the U.S. and 2,000 in Canada. They pose a fire risk because of the synthetic foliage, berries and cones ornamentation. No injuries have been reported. The recalled rings were sold in Yankee Candle and Hallmark stores nationwide from September 2013 through October 2013. They were sold for between $8 and $10 at these stores, as well as through Yankee Candle catalogs and Yankeecandle.com. Consumers are asked to return candles to the nearest Yankee Candle store for a full refund. See the CPSC recall notice.
Playtex Hip Hammock Infant Carriers
Playtex is offering parents a full refund after recalling a baby hammock-style carrier. Playtex Hip Hammock infant carriers were recalled because they pose a fall hazard to children. About 305,000 baby carriers were recalled in the U.S. and 36,000 in Canada.
The company received 87 reports of the product's buckles cracking or breaking. Two reports involved injuries, including one infant who required care at a hospital emergency room.
Consumers are instructed to stop using the carrier and contact Playtex for a full refund. These carriers were sold from June 2004 to December 2008 in the U.S. and through January 2010 in Canada. Purchase price was about $40 for the basic model and about $60 for the deluxe model.
In the U.S., the baby carrier was sold at Burlington Coat Factory, Target, Amazon.com and other baby and discount stores.
The carriers are designed for children 15 to 35 pounds and are made of a suede fabric in black and navy. They have black, black and white check and burgundy lining on the inside. Read the CPSC recall notice for model numbers.
Cubetensils Children's Eating Utensils
Edoche Inc. recalled about 1,100 children's spoon and fork sets because the handle can detach, posing a choking hazard for infants. The Seattle, Wash. company received one report of a handle detaching and a baby putting it in their mouth. No injuries were reported.
The utensils were sold in seven different designs and patterns from May 2012 through November 2013 for about $8 per set. They were sold at retailers and specialty stores nationwide, along with Amazon.com and ebay.com. Consumers can contact Edoche for a full refund. Read the CPSC recall notice for more information.
Consumer Product Safety Commission Website
If you have never used this website, it is a great tool to become familiar with in the New Year. You can find the latest product recalls and more information about ones you learn about in the news. But often, product recalls are not picked up by the news media so it is important to seek out the information yourself periodically. If you use Facebook, you can also stay up-to-date by following our page, where we often report on recalls.
Boston Massachusetts Personal Injury and Medical Malpractice Lawyers | Promote Your Page Too

Here is one page from the CPSC website which may help you now: "Check for These Winter Products Recalled Last Summer."

About Breakstone, White & Gluck
The Boston product liability lawyers at Breakstone, White & Gluck have over 100 years combined experience representing clients injured by defective products, including toys, automobiles and medical devices. If you have been injured, it is important to learn your rights. For a free legal consultation, contact us at 800-379-1244 or 617-723-7676 or use our contact form.