Head Injuries and Concussions Being Tracked Among Massachusetts Student Athletes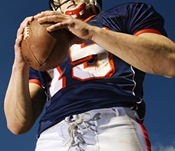 More than 330 students suffered head injuries and concussions last fall at 26 high schools in the region, according to a survey by The Boston Globe. This is the first time Massachusetts high schools and middle schools have been required to report injuries under a new state law.
Football accounted for the majority of injuries, with 207 reported head injuries. Girls soccer followed with 85 head injuries, compared with 46 among boy soccer players.
Robert Cantu, a clinical professor of neurosurgery at Boston University School of Medicine, told theGlobe that football is the leading cause of head injuries among student high school athletes nationwide. He estimated that for every concussion recognized in football, 6 to 8 go unreported.
Concussions are a brain injury which can result when student athletes are struck in the head, collide with each other or engage in unsafe play. One recent study has documented how excessively heading the ball in soccer causes trauma to the brain as well. Symptoms can include headache, nausea, dizziness and confusion. Concussions have the best chance for recovery when given proper rest.
In 2010, Massachusetts passed a new law aimed at preventing concussions among high school athletes and protecting them from long-term injury. Since last September, students, parents and coaches have been required to receive annual training on recognizing and treating concussions; students who sustain concussions must obtain medical clearance before returning to play. Schools must report the number of injuries to the state Department of Public Health.
The 26 schools reported 338 head injuries. Marshfield and Newton South high schools reported the largest number of head injuries, followed by Lexington, Duxbury and Wakefield. Some coaches in these districts say the higher numbers reflect the community's work to educate students and parents.
Some schools have gone beyond the requirements of the law and are utilizing ImPACT testing, a computerized cognitive test used to help evaluate whether a student is ready to return to the field. Some school districts are providing free physicals and staffing a doctor at every football game.
Finally, some athletic directors report their coaches are focusing on safe playing techniques while others are seeking new football helmets for players.
Related:
Massachusetts Concussion Law
Massachusetts Baseball Safety
The Boston head injury lawyers at Breakstone, White & Gluck are experienced in handling cases involving traumatic brain injuries, head injuries and other catastrophic accidents. If you have been injured, it is important to learn your rights for seeking compensation. For a free legal consultation, contact us today at 800-379-1244 or 617-723-7676 or use our contact form.