Child Passenger Safety Week September 15-21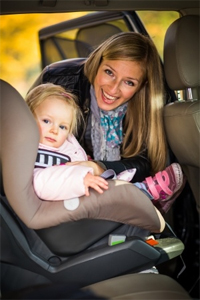 Many parents follow the law and fasten their children into child passenger safety seats. But the National Highway Traffic Safety Administration (NHTSA) says three out of four are doing it incorrectly, leaving children vulnerable to serious injuries.
There is a lot of confusion about child passenger safety seats. They are challenging for parents to position and laws change every few years. Additionally, each state has its own law. But they are important. Child safety seats reduce the risk of death for infants by 71 percent, according to the Centers for Disease Control and Prevention (CDC). The figure is 54 percent for toddlers ages 1 to 4.
September is a good time for parents to have their child's passenger safety seat inspected for free. The NHTSA and communities across the country will hold Child Passenger Safety Week is Sept. 15 – 21. Sept. 21 is National Seat Check Saturday. You can search this database or this website to find a child seat inspection station near you (we suggest you call in advance to check).
There are inspection stations in Boston, Cambridge, Somerville and many other Massachusetts communities. These technicians should be certified and trained in the NHTSA curriculum. Some stations, such as local police departments, are often available to help parents throughout the year if you call for an appointment.
Massachusetts Child Passenger Safety Law
The Massachusetts Child Passenger Safety Law requires all children to use child passenger restraints until they are 8 years old or over 57 inches tall (4′ 9″). Up until 2008, the law only required children under 5 years of age and 40 lbs to ride in a safety seat.
There are four types of car seats: infant carrier seats, rear-facing convertible seats, forward-facing seats and booster seats, for children ages 4 until they are 8 years old in Massachusetts. When children turn 8 and are 57 inches tall, they can move into a seatbelt. The state recommends children travel in the backseat wearing a seatbelt until they are age 13.
Use of a booster seat reduces the risk of fatal injury for children ages 4 – 8 by 55 to 67 percent compared to unrestrained children and adults, according to a recent article in the University of Michigan Transportation Research Institute.
Another Change in Law May Be Coming
Another change may be coming for child passenger safety seats, but if so, the requirement will not be effective until February 2014.
The NHTSA has proposed that a child car seat be secured by a seat belt and top tether rather than the Latch system, according to the Wall Street Journal. In 2002, the Latch system became a federal requirement and new cars had to have anchor points between cushions so child safety seats could be secured.
The reason for the change is car seats were lighter a decade ago. Children were not required to use them for as many years as they are under today's laws. The changes would include new labeling for car seats identifying the weight limits. The Juvenile Products Manufacturers Association represents child seat makers and is asking for the new requirement to be suspended and instead for the weight limits to be increased for the back seat anchors.
Related:
Massachusetts Child Passenger Safety Law
About Breakstone, White & Gluck
The Boston personal injury attorneys at Breakstone, White & Gluck are experienced in handling car accident cases in Massachusetts. We work to promote safety through education and outreach. If you have been injured, contact us for a free legal consultation at 800-379-1244 or 617-723-7676 or use our contact form.