Car Accident Study: Drivers Who Use Cell Phones May Show Other Risky Behaviors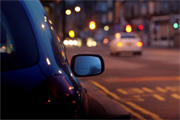 A new study raises the question of whether driving while using a cell phone is the safety risk or a symptom of a larger problem: an aggressive driver with dangerous habits.
Researchers at the Massachusetts Institute of Technology (MIT) found drivers who engaged in frequent cell phone use are higher-risk, even when their phone is out of use. The researchers studied the behavior of 108 Greater Boston drivers. About half admitted to frequent cell phone use while the others said they rarely talked behind the wheel.
The frequent cell phone users tended to drive faster, changed lanes more often and spent more time in the far-left lane. They were also more likely to accelerate rapidly and slam on the breaks.
The data supports the focus on cell phone use: The National Safety Council (NSC) estimates about 1 of 5 car accidents involve drivers who were on the phone.
But researchers say even as the number of cell phones has increased nationwide, the number of car accidents has not, leading to one possible conclusion that drivers who talk behind the wheel are also engaging in other risky behaviors.
Massachusetts is among 39 states which have banned texting while driving. Ten other states ban talking on the phone unless a driver uses a hands-free device. Recently in Massachusetts, lawmakers have considered full cell phone bans to reduce car crashes.
Researchers are investigating whether the answer lies beyond new laws. They are considering retraining programs for drivers which discourage cell phone use and provides warning about other bad habits. Focus is also on auto collision warning systems or sensors which identify when cars cross a lane.
Related:
The Boston car accident lawyers at Breakstone, White & Gluck have 80 years combined experience handling cases involving car accidents, bike accidents and pedestrian accidents. If you have been injured, it is important to learn your rights. For a free legal consultation, contact us today at 800-379-1244 or 617-723-7676 or use our contact form.