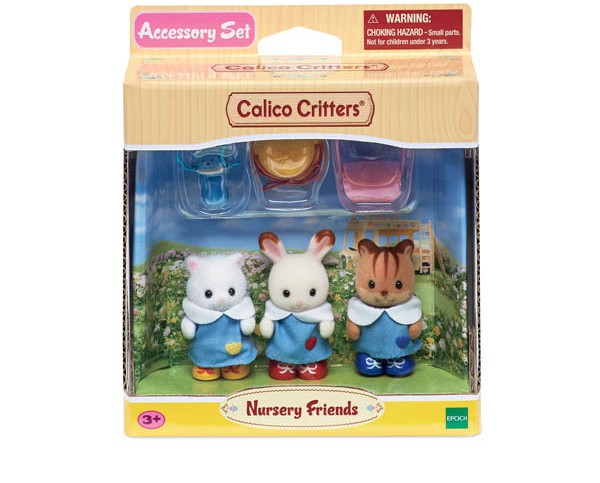 A few weeks ago, W.A.T.C.H. released its nominees for the "10 Worst Toys of 2020." For parents and families, this list offers insights on how to avoid buying dangerous toys this holiday season. It also reveals some inappropriate advertising tactics.
When you see a toy online or in a store, you cannot just assume it is safe for your child. While there is a federal toy safety standard and the Consumer Product Safety Commission (CPSC) oversees recalls of unsafe toys, there are still many cases of dangerous and defective toys reaching families. According to W.A.T.C.H., one child is treated in a U.S. emergency room every three minutes for a toy-related injury. Between 2016 and 2018, 43 children died in toy-related incidents across the U.S. In 2018, there were an estimated 226,100 toy-related injuries.
From this year's W.A.T.C.H. "10 Worst Toys" report:
Calico Critters Nursery Friends. W.A.T.C.H. calls this set a potential danger because the small animal figures are flocked with clothing that can become loose. The set also includes small parts, such as a pacifier. Children can potentially choke on either the clothes or pacifier.
The Calico Critters set is being sold by Amazon, and also online and in stores by Walmart and Kohl's. In this case, the age recommendation is 3+ and it carries a small parts – choking hazard warning. But the toy contains small play figures meant for young children, including a pacifer; it is inherently dangerous because of the small parts, the clothing and children may attempt to mimic the dolls and suck the pacifier.
A similar Calico Critters playset was also mentioned in the U.S. PIRG, "Trouble in Toyland" report this year. The set may be to blame for two children under age 3 choking in New Mexico and Utah; the child in New Mexico died (Source: 2020 Trouble in Toyland report which cited a court filing and a local news report).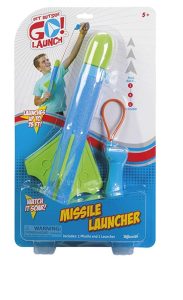 Missile Launcher. According to W.A.T.C.H., this toy can cause potential eye or facial injuries. The launcher is intended for children age 5 and older.  The packaging shows a child stretching the launcher out near his face, which supports the view that this toy is unsafe. This product is being sold by Home Goods.
Marvel Avengers Vibranium Power FX Claw.  Kmart, Amazon and Walmart are selling this Hasbro toy. It is marked for children age 5+. W.A.T.C.H. warns children can use the claw to swing or hit people or animals. If a child makes contact with someone else, they could be seriously injured. The manufacturer even states this right out on the warning label.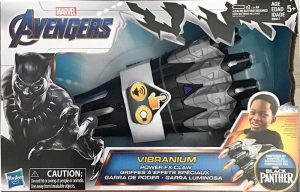 Read Age Appropriate Labels and Warnings
Manufacturers must have toys intended for children 12 and younger tested by a third-party to ensure they comply with the federal toy safety standard. Toys which have small parts must also have age appropriate warning labels. We encourage consumers to protect themselves by becoming experienced at reading these labels – and be critical. The W.A.T.C.H. report highlights just how inadequate and in poor taste toy warnings can be. If you purchase a toy online, read the description on the screen before you buy, then double check the box when it actually arrives.
Free Legal Consultation
Boston Product Liability Attorneys – Boston Toy Safety Lawyers
With more than 100 years combined experience, Breakstone, White & Gluck specializes in representing clients injured in personal injury and product liability cases across Massachusetts. Read about our experience representing clients injured in product liability cases in Boston. For a free legal consultation, call 800-379-1244 or 617-723-7676 or use our contact form.
You can also read more of our Project KidSafe holiday toy safety series.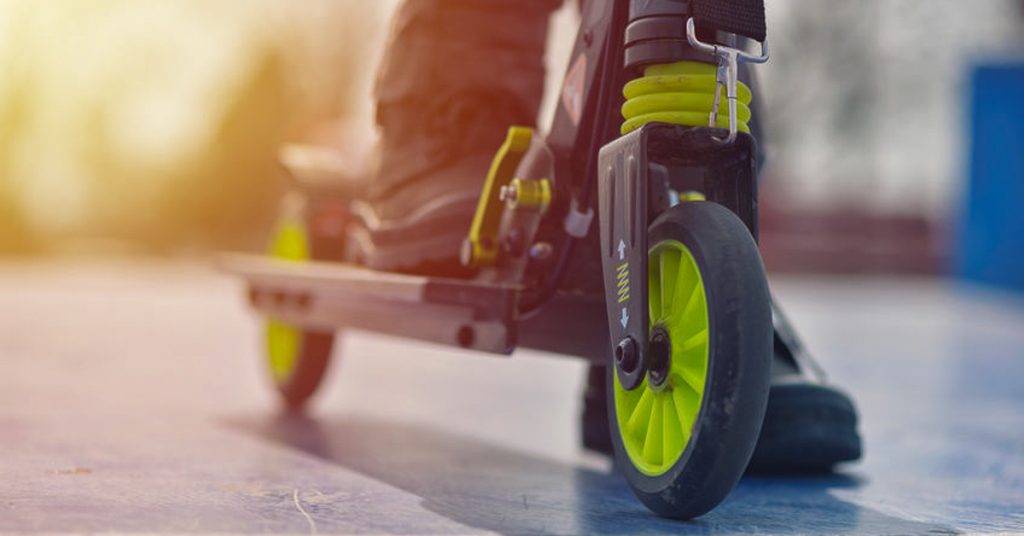 Children are eager to find fun activities this summer. In response, many parents have purchased new scooters online. As you open the box, remember to approach your child's scooter as you would a bicycle. Make sure you have an age-appropriate and safe scooter model, along with a safety helmet.
Pre-Purchase: Read Product Materials
Before you buy, carefully read the product description. For children, plan to buy an age-appropriate non-motorized scooter. Check out online reviews and ask friends about their experiences purchasing scooters. Then, search for product recalls on the Consumer Product Safety Commission website. This is essential because at times, online vendors have been caught selling recalled products. Your child could be seriously injured on a recalled scooter.
Try to purchase a new scooter for your child. While bicycles can be passed down and refurbished, children usually wear their scooters out fairly well, especially the thin, fold-up models. If you do find a hand-me-down scooter, do a thorough inspection before giving it to your child. Locate the model number and check the recall database.
Post-Purchase: Inspect Your Delivery
When the scooter arrives, check that you have received the right model number and all the parts. Nothing should be broken or cracked. Register the scooter with the manufacturer to receive product recalls and other updates. Bicycles, skateboards and scooters all contain small parts and screws. Because your child probably rides daily, we suggest keeping the box. Scan the instructions and product support number so they are easily accessible.
Purchase a Helmet
As part of our Project KidSafe campaign, Breakstone, White & Gluck encourages children to wear bicycle helmets to protect against head injuries. Your child should also wear a helmet every time they ride a scooter. Take time to make sure the helmet is properly-fitted so your child is comfortable wearing it.
This is a suggestion and a requirement. A little background: Under Massachusetts law, children 16 and younger must wear helmets on bikes and scooters, as well as other riding toys.
The bicycle helmet law has been in place longer. In 1994, the state of Massachusetts approved a bicycle helmet law for children age 12 and younger. Then, in 2004, Massachusetts expanded the helmet law to children age 16 and younger on bikes, as well as scooters, skateboard, inline skates and manually-propelled wheeled vehicles. These laws are M.G.L. c. 85, § 11B and M.G.L. c. 85, § 11B1/2.
Some parents keep separate helmets for scooters and bikes. It is also acceptable for children to use one helmet, so long as it meets the federal safety standard for bicycles, properly fits and is in good condition. One reminder though: if your child wears one helmet, expect it to wear faster. Be prepared. Stowaway an extra helmet in your garage.
Look for helmets to meet this safety standard, U.S. Consumer Product Safety Commission (16 C.F.R. part 1203). These helmets are designed to protect against skull fractures and severe brain injuries sustained in bicycle accidents and falls. For more information, read the CPSC's article, "Which Helmet for Which Activity?"
Driveway Safety
Many scooter accidents happen in or near driveways. Think about how you can protect your children while they ride. One idea is you can purchase driveway fencing. You can buy light-weight brightly colored fencing which retracts when you are done playing. Another strategy is you can park your cars between the children's play area and the road.
Steer Clear of Large Vehicles
Even quiet streets see large vehicles, including SUVs, delivery trucks and trash vehicles. These vehicles can be deadly near young children on scooters. When a large vehicle appears, teach your child to move to a safe location (this may be your front lawn, your driveway, the sidewalk or the side of the road). Children are safest stepping off the scooter until the vehicle turns off the engine and parks or departs. Drivers backing up can be the most dangerous for children on scooters. Have your children wait inside while you back in or out of your driveway.
Bright Colored Clothing
Buy your child a brightly colored vest, shirt or jacket to wear when they ride near your home or around the neighborhood. Drivers don't expect scooters – they move differently than bicycles or pedestrians – and you want them to really see your child. To reinforce the message,  you can also wear brightly colored clothes as you walk along your child. Everyone is safer when they are more visible to traffic.
Park Scooters at Night
For safety, children should park their scooters at night. Drivers have a responsibility to look and operate with reasonable care. But the truth is more accidents occur at night and drivers are less likely to see bikes and scooters. Children's scooters may have neon stickers, but these are hardly visible in night traffic.
Non-Motorized Scooters for Children
Say no to motorized scooters. The American Academy of Pediatrics (AAP) has advised against motorized scooters for children under 16. Powered scooters are associated with three times as many severe injuries to children in the U.S., according to a New York Times article on the study.
Scooter Injuries. In the 2008 study, children were more likely to suffer concussions and severe head injuries on motorized scooters. Leg injuries also increased.
More recently, in 2017, the CPSC reported non-motorized scooters were associated with the most injuries among two age groups, children 12 and younger and children under 15. That year, non-motorized scooters caused roughly 20 percent of injuries in both age groups and four deaths of children between 4 and 8 years old. All four children were riding scooters near their family's home or driveway.
Defective Scooters. Do not assume your child was doing something wrong if the scooter starts to break or a piece falls loose. Manufacturers have had to recall defective scooters on many occasions. Report the incident to the manufacturer. Your report may confirm other reports and prompt them to issue a recall to prevent other scooter accidents and injuries. This is how the process works and it only works if consumers come forward with safety complaints.
Discard Scooters Carefully. If your child wore out their scooter, it's not safe for use and you should disassemble it. This way, it will not injure another child.
About Breakstone, White & Gluck – Boston Personal Injury Lawyers
At Breakstone, White & Gluck, our Boston personal injury lawyers represent those who have been injured by negligence and recklessness. We are also committed to protecting against head injuries through our Project KidSafe campaign, donating 30,000 bicycle helmets to Massachusetts children since 2013.
We urge families to buy scooters carefully. Always buy a helmet. Always check for product recalls before you buy. Always carefully inspect the scooter when it arrives. Then, after you have taken these steps, you're ready to enjoy the last few weeks of summer, watching your child ride their new scooter safely.
If you or your child are injured by negligence, please take time to learn your legal rights. For a free legal consultation, contact Breakstone, White & Gluck at 800-379-1244 or 617-723-7676 or use our contact form.