Cambridge Leads Massachusetts in Bike Accidents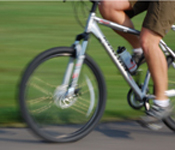 Cambridge and Somerville are known as bike-friendly communities, but new state figures show they are also among the most dangerous places for cyclists in Massachusetts.
Cambridge saw 400 bicycle accidents involving cars from 2002 to 2009, according to The 2009 Top Crash Locations Report, which was recently released by the Massachusetts Department of Transportation. Over the past decade, the city had more bike-and-car crashes than any other community in Massachusetts, a recent Boston Herald review found.
Eight of the top 10 areas for bike crashes were in Cambridge. The state's most dangerous bicycling intersection was Inman Square in Cambridge and Somerville. From 2002 to 2009, there were 106 bike accidents around Hampshire and Cambridge streets.
Other Cambridge areas included several sections of Massachusetts Avenue, including through Alewife Brook Parkway on the Arlington border. Porter Square – at Massachusetts and Somerville avenues – had the third highest number of bike crashes.
The state's bicycling population is growing as infrastructure improvements continue and new bike share programs begin. Boston and Salem began bike share programs this summer, while Somerville is expected to launch its program next year.
With this growth and changes in Massachusetts bicycling laws in recent years, it is important for both drivers and cyclists to understand the law and follow it. Here the Boston bicycle accident lawyers at Breakstone, White & Gluck share some basic tips:
Motorists are required to report accidents with bicyclists resulting in more than $1,000 in property damage or personal injury. It is a good practice to report all accidents in case pain and injuries arise later.
Leaving the scene of an accident causing personal injury is a crime in Massachusetts punishable by up to two years in jail.
Motorists are required to identify themselves and the owner of the vehicle to the cyclist, even when bike accidents are not reported to police.
Bicyclists are required to report all accidents they are involved with that cause personal injury or $100 or more in damage.
When a bicyclist is injured in a car accident, the driver's auto insurance provides up to $8,000 in Personal Injury Protection benefits (also known as no fault benefits). These benefits cover medical expenses and lost wages, even if the driver was not negligent
If you are a cyclist, you can protect yourself by purchasing coverage for accidents. Coverage can be purchased through your car insurance policy.
Additional Bicycle Resources
Facts About Cycling in Massachusetts
What Every Massachusetts Bicyclist Needs to Know About Car Insurance
What to Do When Car and Bike Collide. Boston Globe. Sept. 25, 2011.

The Boston bicycle accident lawyers at Breakstone, White & Gluck handle collisions involving bicyclists and motor vehicles throughout Boston, Cambridge, Somerville and all Massachusetts. If you have been injured in a bicycle accident, contact us today for a free legal consultation. Call us at 800-379-1244 or use our contact form.