Breakstone, White & Gluck Begins 2019 Project KidSafe Campaign
Attorneys' Project KidSafe Campaign Gives Away 400 Children's Bicycle Helmets in First Week of Community Events
Breakstone, White & Gluck kicked off our Project KidSafe campaign in April, continuing on with our commitment to put bicycle helmets on Boston-area children who need one to prevent head injuries.
We always look forward to this time of year, giving away the helmets, talking to children and families about riding a bike (some of the kids are pretty excited!) and working with our community partners.
This year, our attorneys are partnering with more than 40 community organizations, including police departments, schools and bicycle committees. While our attorneys donate the helmets, these groups are critical in getting the helmets to children and encouraging helmet use. Many of these groups organize community events, where children can receive a free helmet, have it fitted specifically for them and ask questions about bicycle safety and traffic laws. These events are a lot of fun, teaching core bicycle skills and giving children the chance to interact with other cyclists, police officers and the community in a positive way. Children also have the opportunity to see others wearing bicycle helmets, which reinforces our message that helmets are essential.
Breakstone, White & Gluck founded our Project KidSafe campaign in 2013, with a goal of protecting children on bikes. This is our 7th year in 2019 and we plan to donate more than 4,000 bicycle helmets to children in Boston, Cambridge, Somerville, Everett and other communities. To date, we have now donated more than 25,000 bicycle helmets to protect children.
These were the first few Project KidSafe helmet giveaways, most taking place on Saturday, April 27th:
Arlington Pierce School
Breakstone, White & Gluck donated 60 Project KidSafe helmets to fifth graders at Pierce School in Arlington, as part of its annual bike safety day during the week of April 22nd. This was the third year of the donation and our fifth year of supporting bike safety events in Arlington Public Schools. Our attorneys, MassBike and Arlington Police usually come out to talk about Massachusetts laws for cyclists, safety tips and just why wearing a helmet is important. Our attorneys were unable to participate this year due to scheduling, but we are told it was another event filled with valuable information and the students asked many good questions.
Watertown Bicycle & Pedestrian Committee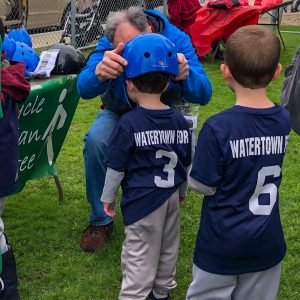 The Watertown Bicycle & Pedestrian Committee were out on Saturday, April 27th, giving away roughly 70 bicycle helmets to children at Little League Opening Day. This marks the fifth year we have partnered with the committee to get helmets to local children. In the past, committee members have reached out to children with helmets at other community events, but this was their second visit to Little League Opening Day and they hope to continue on with this giveaway. Terrific work by the committee! Read more.
Westborough Bike and Pedestrian Advisory Committee
Westborough families turned out strong for Healthy Kids Day at the Boroughs Family Branch of the YMCA of Central Massachusetts, which also took place on April 27th. Members of the Westborough Bike and Pedestrian Advisory Committee had a busy day, fitting more than 90 children for free bicycle helmets. This is familiar ground for committee members, who have volunteered their time for the past 5 years giving away the bicycle helmets and talking to families about safe riding. We thank them for their time and dedication each year.
Medford Bicycle Advisory Commission
The Medford Bicycle Advisory Commission (also known as Medford Bikes) gave our Project KidSafe helmets to children who needed one the Medford Indoor Bike Rodeo, which was held at the city's recreation center. The April 27th event was put on in partnership with the Medford Recreation Center and Massachusetts Safe Routes to School. Pat Bibbens of Medford Bikes led the children through skills training. This was the third year Breakstone, White & Gluck and our Project KidSafe have donated bicycle helmets in partnership with Medford Bikes.  In past years, the committee has also distributed our Project KidSafe helmets at community events at the Medford Public Library and the town's annual Medford Day. Great work this year!
Framingham Earth Day
At Framingham Earth Day, Attorney David W. White and our volunteers, Attorney Denise Murphy (who happens to be David's wife) and Framingham cyclist Bill Hanson fit more than 120 bicycle helmets for children on Saturday, April 27th. We set up next to the Bruce Freeman Trail tent, so cyclists had the opportunity to learn about the developing trail and the importance of wearing a helmet in one stop. Thanks to both of our volunteers!
Check out more of our photos from our Framingham Earth Day donation and follow our Project KidSafe campaign on Facebook.