Breakstone, White & Gluck and Quincy Police Give Away 100 Free Bicycle Helmets to Students at Merrymount School
Quincy Police officers visited Merrymount School last week, speaking to children about bicycle safety in the city, and making the critical commitment to wear a bicycle helmet every time they ride. Quincy police officers talked to students at all grade levels, then gave away 100 bicycle helmets donated by Breakstone, White & Gluck's Project KidSafe campaign.
We are pleased to make this donation just in time for summer. This is the third year Breakstone, White & Gluck has partnered with the Quincy Police Department to encourage children and families to wear bicycle helmets to protect against head injuries. Breakstone, White & Gluck founded our Project KidSafe campaign in 2013, with a goal of helping children ride safely. Our attorneys have since given away more than 25,000 bicycle helmets to help children in the Boston area and across Massachusetts.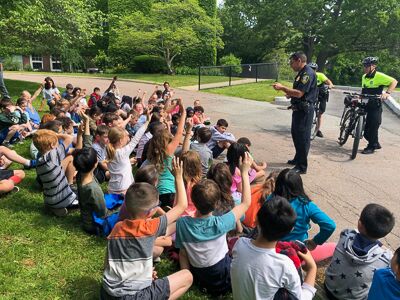 Photos are courtesy of the Quincy Police Department.