What to Know About Potholes and Car Accidents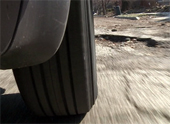 In Massachusetts, we are making the long-awaited transition from winter to spring.
For drivers, that means trading in the challenge of navigating snow-packed roads for dodging potholes.
While potholes often start as small pavement cracks, they can expand quickly if left unrepaired.  Hitting even a small pothole can cause hundreds or thousands of dollars in damage to your car as well as serious injury if the driver loses control of the vehicle. Accidents often happen when private property owners and government entities fail to quickly repair roads or set up signage alerting drivers to roadway defects.  The law requires all persons to maintain roadways, driveways and sidewalks in a reasonably safe manner. But it also allows a reasonable amount of time to discover and repair the defect.  
Around Boston, some communities report hundreds of pot hole car accidents and incidents each year. The city of Boston is trying a new approach to hasten repairs by developing a smart phone app called Street Bump which allows drivers to send the city alerts about defective roadways which need to be fixed.
If Your Car is Damaged by a Roadway Defect
If your car is damaged or you are injured because of a roadway defect,
you can expect your auto insurance collision coverage will cover the damage,
but you will be subject to your deductible, which is often $500 or more. You may also be entitled to other compensation depending on where your accident happened.
It is important to consult an attorney promptly if you are injured in order to protect all of your rights. Here are a few points to keep in mind:
Private Property.  Commercial property owners invite the public onto their property for business and have a responsibility to maintain their premises,
including parking lots and driveways, in a reasonably safe manner.  If the damage or injury is caused by the negligence of the property owner, then the owner's liability insurance should cover the losses. The same rule applies to a private landowner; there is a duty to maintain driveways, parking areas, and walkways in a reasonably safe manner for all lawful visitors.
Roads and Highways. Under M.G.L. c. 84, Section 15, cities and towns must properly maintain their public ways. If a community fails to do so and had reasonable notice of the defect, a person injured in an accident on a local road may seek up to $5,000. The municipality must have known about the defect or should have learned of the defect in the exercise of due care and diligence. Gregorie v. Lowell, 253 Mass. 119 (1925). Perfection in road maintenance is not required. Zacherer v. Wakefield, 291 Mass. 90 (1935).
The city or town must receive written notice of the defect within 30 days. Proper written notice is an absolute requirement. In addition, there is an iron-clad $5,000 cap on damages. Unfortunately, any negligence on the part of the driver will be a complete bar to recovery; the rule of comparative negligence does not apply.
In Summary
In summary, potholes are a way of life in Massachusetts. If you have the misfortune of suffering a loss due to a pothole on a public way, there is little likelihood of obtaining relief from any public entity.
About Breakstone, White & Gluck
The Boston car accident lawyers at Breakstone, White & Gluck are experienced at handling claims involving auto accidents throughout Massachusetts. If you have been injured, learn your rights. For a free legal consultation, contact us today at 800-379-1244 or 617-723-7676 or use our contact form.