Annual Walk to the Hill for Civil Legal Aid: Lawyers, Advocates Seek $27 Million Budget for Low-Income Services
We joined hundreds of lawyers at the Massachusetts State House Thursday to lobby for increased funding for civil legal aid. We gathered as part of the 17th Annual Walk to the Hill for Civil Legal Aid. Funding is in crisis in Massachusetts, with nearly two-thirds of eligible low-income residents who seek help being turned away.
With an increase, more people will be able to stay in their homes, find shelter and avoid hardship. Please keep reading this blog on the $27 million budget appropriation sought and visit this page to contact your legislator.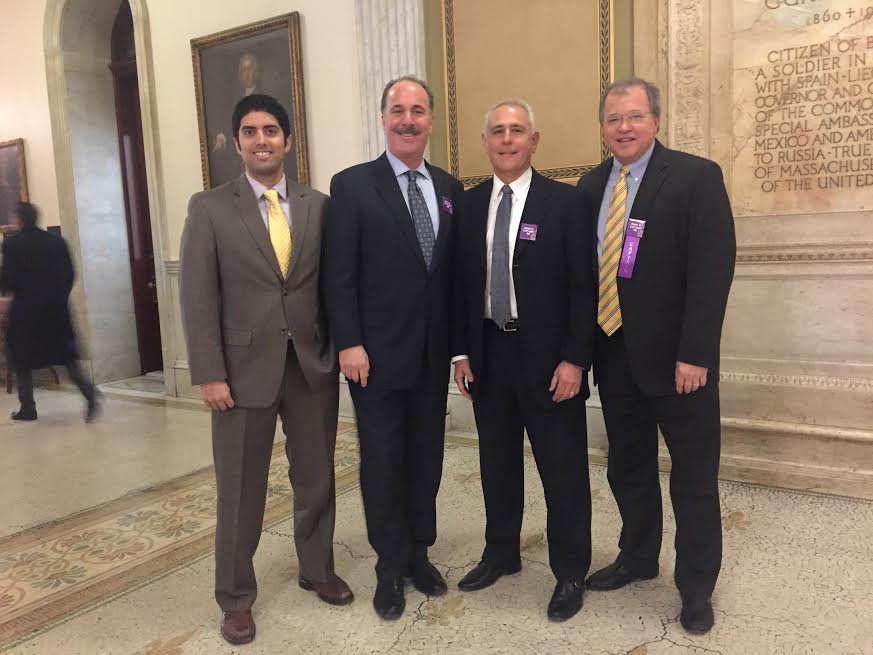 Right to Left: Attorney David W. White, Massachusetts Bar Association President (2007-2008), Attorney Ronald E. Gluck, Attorney Marc L. Breakstone and Attorney Reza Breakstone at the Annual Walk for Civil Legal Aid on January 28, 2016.
---
The annual event, sponsored by the Equal Justice Coalition, draws lawyers from across the Commonwealth for a day of lobbying for the Massachusetts Legal Assistance Corporation, which provides legal aid for the poor and underserved.
This year, lawyers asked for the state appropriation for civil legal aid services to be increased from $17 million to $27 million in Fiscal Year 2017. Governor Charlie Baker has proposed $17.17 million, a $170,000 increase.
Lawyers from more than 40 private firms attended this year, along with Attorney General Maura Healey and Chief Justice Ralph Gants of the Supreme Judicial Court, who addressed participants:
"In a few minutes you will meet with legislators and members of their staff to ask them to increase the state appropriation for civil legal services from $17 million to $27 million," Gants said. "Many will ask you: 'How can we afford an increase of that size during a challenging budget season?' And you will answer: 'How can we afford not to?'" Gants' comments were published by the Massachusetts Bar Association's Lawyers E-Journal.
Contact Your State Legislator
Search this website to find your legislator.

Find Out How to Contact Your State Legislator
Once you have the name of your legislator, look up their address on this website or you can do a general Google search.
Post blog note: Our thanks to the Equal Justice Coalition, who later recognized us with the Nancy King Award for the highest percentage of attorneys participating at a firm – 4 out of 4, or 100 percent!
The coalition also recognized: Wilmer Hale for having the most attorneys participate and Ropes & Gray and Foley Hoag with exceptional support awards. Sally & Fitch was honorably mentioned. Highest participation among law schools went to UMass Law, which had 56 students in attendance. Liberty Mutual was the leading corporate law department, with 24 participants.