Breakstone, White & Gluck recently donated bike lights for the Boston Bikes' #BeBrilliant campaign. Boston Bikes surprised cyclists during their evening commutes and gave them free bike lights, at various giveaways over several days.
A total of 250 light sets were distributed in giveaways in Allston, Dorchester, East Boston, Jamaica Plain, Mattapan, Roslindale and South Boston. Community-based bike shops also distributed lights.
In Massachusetts, cyclists are required to equip their bikes with a white front light and a red rear reflector so they are visible to drivers in the dark.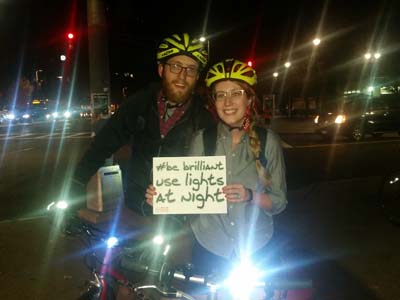 This is the second year Breakstone, White & Gluck has donated bike lights for the campaign as part of our bike safety outreach. The campaign started after Daylight Savings Time.
Boston Bikes, an office of the City of Boston, worked with a number of city cycling clubs, stores and organizations to distribute the lights, including:
Bicyclecentro
Bikes Not Bombs
Bowdoin Bike
Commonwheels
Bicycle Co-Op
Dot Bike
JP Bikes
Mattapan Food and Fitness Coalition Vigorous Youth
Southie Bikes
More photos of the cyclists: http://tinyurl.com/pd4y89t
About Breakstone, White & Gluck
The Boston law firm of Breakstone, White & Gluck promotes bike safety through our Project KidSafe campaign. Since 2013, we have donated nearly 8,000 bike helmets in Massachusetts. To learn more about our firm and attorneys, visit this page: https://www.bwglaw.com/our-attorneys.html.