Talk to Your Loved Ones About Supervising Children by the Pool. This is the Most Important Job of Summer.
The long and lazy days of summer are finally here and many of us are spending them by the pool. We hope you enjoy these times with your friends and family. And please remember to think about safety.
Each year in the U.S., nearly 5,000 children under age 15 are treated for pool- or spa-related injuries at hospital emergency rooms, according to the Consumer Product Safety Commission (CPSC). Nearly 400 children under age 15 are killed in swimming pool and spa drownings. More than 75 percent of these children are under the age of 5 and the majority of these deaths occur at private residences. But injuries can happen at any pool where someone stops paying attention or is negligent, including hotel swimming pools, community centers and other places.

Prevent injuries this summer by talking about the rules of safety with your family and friends.
Pool Owners. You have a responsibility to keep your pool area safe for family and invited guests and to secure it from others. You must keep your pool behind a fence which is at least four feet tall and secures with a self-latching and self-closing gate. But we encourage you to go a step further. Try walking around your fenced-in pool area. Are there areas where a young child could easily get in on their own? If so, make adjustments.
If you have questions, a good resource is your town's local building department.
Drain Covers. Keep children away from pool drains, pipes and other openings which could cause entrapment.
Home Spa Safety. If you have a home spa, install and use a child-proof locked safety cover to keep children out.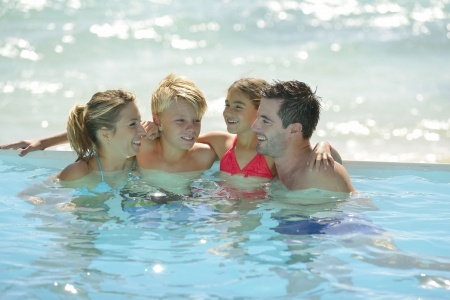 Watch Children Closely. Before the swimming season, learn CPR. Then when you head to the pool, set aside all distractions and watch the children. Avoid distractions such as reading, cell phone calls, and texting–supervision should be treated like a job.
When supervising young children, swim with them and practice "touch supervision." For older children, watch them and be involved with them even if you are not swimming. Talk to them and let them know if they are doing something they should not be. If you are part of a group of adults watching children swim, designate someone the "pool watcher" so that the children are supervised at all times. But still supervise your own children at all times.
Likewise, at hotel and community pools, do not rely on lifeguards to watch your children.
Dress Children Appropriately. Make sure children are not wearing swimming suits or hair accessories that can get caught in pool drains or other openings.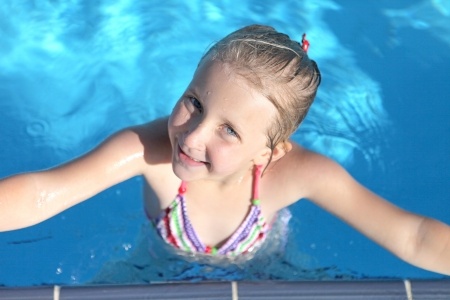 Poolside Toys. Many pool accidents involve diving board, sports equipment, rafts and pool slides. Always look before you use. If something looks unsteady, do not use it.
Many pools no longer have diving boards because homeowner's insurance companies have stopped providing coverage for them. But if you are going to dive, make sure the water is at least 10 feet deep.
Avoid portable pool slides, inflatable toys and using backyard trampolines with the pool. These products may not be designed for use with a pool or may be defective. In one Massachusetts case, a Colorado woman visiting the state died in 2006 after she slid down a Banzai brand inflatable slide at a backyard pool. It partially deflated, causing her to strike her head on concrete by the pool. The Consumer Product Safety Commission later recalled 21,000 of the Banzai brand inflatable slides and continues to recall unsafe pool toys and equipment each year.
Broken Glass. Do not bring beer bottles and glass out to the pool. Serious accidents can happen if the glass breaks in or near the pool and someone steps in it. If there is broken glass in the pool, it will be invisible and therefore impossible to find safely. Beyond injury, you will have a lot of clean-up. First you will have to drain the pool and then you will have to sweep it thoroughly.

About Breakstone, White & Gluck
The Boston personal injury lawyers at Breakstone, White & Gluck have 100 years combined experience handling personal injury claims, including those involving swimming pool accidents, premises liability claims and product liability claims. We represent clients throughout Massachusetts, including Boston, Weston, Lexington, Arlington and Cambridge. We also represent clients in Plymouth, Cape Cod, Brockton, Framingham, Dedham, Worcester and Springfield.