Boston's Hubway Bike-Share Network Now Fully Launched for Year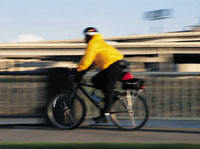 Boston's Hubway bike-sharing system returned to full operation Sunday, when over 60 bike stations began offering rentals for the new season.
The New Balance Hubway had re-opened many stations for the spring on March 15. The program began last July, with 61 stations and 610 bicycles. It was widely used with over 140,000 rides logged between July 28 and November 30, when the program ended for the season. One highlight of the season was the program saw no serious bike crashes requiring ambulance response and only two bike accidents overall.
Boston Bikes, which manages the program, is making bike accident prevention and safety a top priority again this season. It has arranged with a number of local retailers to offer discounted bike helmets. Click here for a list.
The program is experimenting with new station locations this year, including the Boston Convention and Exhibition Center, Seaport Hotel and Cambridge Street in downtown Boston.
The Hubway offers $85 annual memberships or two types of casual memberships: $12 for three days or $5 for 24 hours. Rides less than 30 minutes are free with any membership. Longer rides range in prices. Annual members receive a 25 percent discount.
The program is operated by Alta Bicycle Share in partnership with Boston Bikes, an initiative of the City of Boston. It is partially funded by the Federal Transit Administration. Alta Bicycle Share of Portland, Oregon offers similar programs in Washington D.C. and Arlington, Virginia. It has been selected to manage Chicago's first bicycle sharing program which will launch this summer.
In Boston, there are plans to expand the program into Roxbury, Dorchester, Jamaica Plain and Charlestown, Back Bay and downtown. Nearby, Cambridge, Somerville and Brookline plan to launch 30 stations this year.
Hubway users can find stations by visiting the Hubway website. The website provides a map of bike kiosks.
Related:
Facts About Cycling in Massachusetts

If You Have Been Injured in a Bicycle Accident
The Boston bike accident lawyers at Breakstone, White & Gluck have over 100 years combined experience representing individuals injured in cycling accidents, car accidents and pedestrian accidents. If you have been injured in a bike accident, it is important to learn your rights. For a free legal consultation, contact our bike accident attorneys at 800-379-1244 toll-free, 617-723-7676 or use our contact form.