Bicycle Helmet Vending Machines Coming to Boston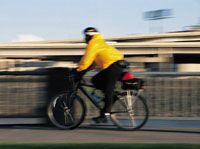 Safety is about to get more convenient for Boston cyclists. The City of Boston is bringing bike helmet vending machines here later this month.
Boston is the first U.S. city to offer this service and the goal is aimed largely at helping riders of the Hubway bike share program. The city, in partnership with Alta Bicycle Share, launched Hubway in 2011. Today, there are more than 1,000 rental bikes in Boston and also Cambridge, Somerville and Brookline.
The first bike helmet vending machine will open Aug. 26 at a ribbon-cutting ceremony outside the Boston Public Library in Copley Square. It will be attached to a Hubway bike station. Other vending machines will be installed in additional areas.
How Will It Work?
Cyclists will be able to purchase or rent the bike helmets. Cyclists can either buy a helmet or pay $2 to rent a helmet for up to 24 hours (pricing is still being finalized). After that, their credit card will be charged to buy the helmet for about $20 (pricing is still being finalized there too). When helmets are returned, they will be taken to a warehouse for inspection and cleaned before going back into the machines. The helmets were designed by HelmetHub, formed by a group of MIT students as a class project.
Next Step a Boston Bike Helmet Law?
Massachusetts only requires cyclists who are 16 years old or younger to wear bike helmets. But in many areas, they are encouraged for all riders as protection against head injury.
One study reported 80 percent of bike share riders in Boston are not wearing helmets. The study by Beth Israel Deaconess Medical Center researchers reported the same figure for Washington D.C. Riders who owned their own bikes wore helmets about half the time.
The City of Boston has worked to encourage bike helmet use by subsidizing helmets for $7.99 and making them available at stores throughout the city. City officials announced a few months ago that their long-term goal is to pass a bike helmet law for Boston, which would require cyclists of all ages to wear helmets in the city.
Our Bike Helmet Donations for Children
The Boston bicycle accident lawyers at Breakstone, White & Gluck have over 90 years combined experience representing injured cyclists. We are proud supporters of the Boston cycling community. In 2013, we donated 1,000 bike helmets to children through programs such as Mayor Menino's Boston Bikes Roll It Forward, CYCLE Kids of Cambridge, the Somerville Kiwanis Club and Winter Hill Community School and the Dedham Bike Rodeo.
If you have been injured in a cycling accident, it is important to learn your rights. For a free legal consultation, contact us at 800-379-1244 or 617-723-7676 or use our contact form.