Bay State Bike Week is Here: Breakstone, White & Gluck to Donate Children's Bicycle Helmets in Somerville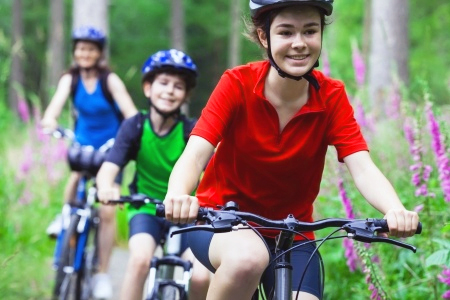 For cyclists, this is one of the best weeks of the year: Bay State Bike Week. It started Saturday and runs through next Sunday, May 17th.
May is National Bike Month and Bay State Bike Week is how we celebrate in Massachusetts. This is a truly statewide event, with groups organizing gatherings, rides and photo exhibits throughout Massachusetts. These events are a great way to learn about cycling in Massachusetts, as well as safety. There are some groups working hard to prevent bicycle accidents in our state and this is the time to see their work.
Bay State Bike Week is a partnership between the Massachusetts Department of Transportation (MassDOT), MassBike and MassRides. If you are a cyclist, check out the list of events.
Here are a few events of note. Watch for us! We may be participating in a few.
---
A few events to watch:
Cambridge. This will be a busy week in Cambridge, with a wide range of events, from pancake breakfasts to lunches with the Cambridge Police Department and city planning staff, where cyclists can ask questions. On Saturday, cyclists gather for a two-hour ride in honor of the late talk host Tom Magliozzi of Cambridge, who was best known for hosting Car Talk on NPR alongside his brother.
There are also bicycle maintenance workshops throughout the week, where cyclists can take home a few tips for free.
Waltham. Waltham is hosting its Second Annual City of Waltham Bicycle Update on Wednesday at 6 p.m., at the Government Center Auditorium on School Street. With more than 60,000 residents, large employers and colleges, the city is looking to encourage safe cycling as an alternative form of transportation.
Lexington. Free bike safety checks will be offered throughout the week. On Friday, a light breakfast is free on the Minuteman Bikeway, near the Lexington Depot. Then Richard Fries, executive director of Mass Bike Director, will lead a bicycle convoy from Lexington to Boston City Hall.
Bike Friday at Boston City Hall. On Friday, the commuters will ride in from all over for Bike Friday, where they are rewarded with a free breakfast. This is a popular event organized by Boston Bikes. It is held once a month in the summer and will be one of the last events of Bay State Bike Week. Attorney David W. White will be out with our Project KidSafe tent as the cyclists pull in.
Somerville Bike Day. For the third year, we will join the Somerville Kiwanis at the city's annual Bike Day at Argenziano School on Washington Street. We will donate 120 new helmets and help fit the helmets for the children. Children will receive a free bicycle inspection, reflectors, and safety pamphlets and get to test their skills on a bicycle obstacle course. The Somerville Police Department will be on hand to register bikes for children.
Western Massachusetts Events. There will be commuter breakfasts, mayor's rides and photo exhibits in Westfield, Amherst, Springfield and Northampton.
Cape Cod Events. There are several rides and interesting events in Cape Cod this week, but one of note is the Cape Cod Summer Citizens – Bike Safety Outreach Program. Each year, thousands of international students arrive on Cape Cod to arrive in work and travel programs. They primarily have to travel on bicycles and this program starts this week. This program provides education to all cyclists throughout the busy tourist season.

About Breakstone, White & Gluck
The Boston personal injury attorneys at Breakstone, White & Gluck have over 100 years combined experience representing clients who have been seriously injured by the negligence of others. If you have been injured in a cycling accident or car accident, it is important to learn your rights. For a free legal consultation, contact us at 800-379-1244 or 617-723-7676 or use our contact form.