Bay State Bike Week Starts Monday; How to Participate as a Cyclist, Pedestrian or Driver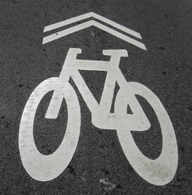 Bay State Bike Week starts Monday, May 14 and runs through Sunday, May 20. The annual celebration features several days of activities and educational programs throughout Massachusetts.
MassCommute Bicycle Challenge
Each year, one of the most anticipated events is the MassCommute Bicycle Challenge. For this one week, employees, students and others participate in teams to see who can pedal the most miles in the name of reducing traffic congestion, helping the environment and making time for fitness. Click the above link for information on how to participate.
Massachusetts Bike/Walk Summit on May 17
One event to watch this year is the Massachusetts Bike/Walk Summit on Thursday, May 17 at the State House. The event is co-sponsored by MassBike and WalkBoston, which seek to pass the Vulnerable Road Users Bill. If passed, the bill would increase fines for motorists who kill or injure vulnerable users. The term "Vulnerable Road Users" would include pedestrians, a person operating a bicycle, handcycle, tricycle, skateboard, roller skates, in-line skates or non-motorized scooter.
The bill was filed in January 2011 and is now in the Joint Committee on Transportation. MassBike has until June 1 to persuade legislators to advance the bill. The bill is supported by WalkBoston, Massachusetts Public Health Association, Conservation Law Foundation, Boston Cyclists Union, and Transportation for Massachusetts. Click the above link for information on how to participate.
Other Events
Bay State Bike Week will feature events and activities for all ages throughout the state, from Boston to Worcester to western Massachusetts. Most events are open to the public for free and are a great opportunity to learn more about cycling and the growing opportunities in Massachusetts. Click the above link for the full calendar.

The Boston lawyers at Breakstone, White & Gluck support a number of Massachusetts bicycle clubs and work to improve the safety of pedestrians, cyclists and drivers through education about the law. If you have been injured in a bike accident and we can help you with a free legal consultation, contact us today. You can visit our website, call us at 800-379-1244 or 617-723-7676 or use our contact form.