Attorney Reza Breakstone Co-Authors Article on Legal Ramifications of Self-Driving Cars in California Lawyers Publication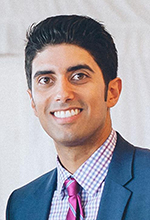 Attorney Reza Breakstone writes about the legal ramifications of self-driving cars in an article published in the Winter 2016-2017 edition of The Litigator, the official publication of the Capital City Trial Lawyers Association in Sacramento, California. Attorney Breakstone co-authored the article with Attorney Paul Hoybjerg of Roseville, California. In the article, "The Self Driving Car: Science Fiction Becomes Reality, Creating a Legal Quandary," the authors write the time has come for the self-driving car.
"The self-driving car is no longer a distant dream of an imagined future. It is here, it is now, and it is reality. There already exist automated functions that come standard on vehicles: anti-lock brakes, self-parking, cruise control, and crash avoidance cameras. Automated cars will affect more than simply your ability to tie your tie or apply your make-up on the way to work. They stand to completely change the automotive industry, insurance world, legal market, public transport and city planning, while redefining the American culture of feeling "freedom" behind the wheel."
The article explains the current levels of automation among vehicles on the market, investments in the industry and ramifications for auto insurers and plaintiffs and defendants in personal injury cases.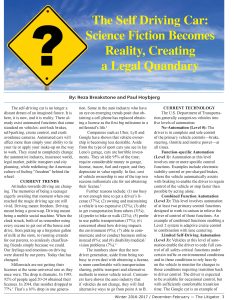 "The less thrilling ramifications may be to the bottom line of auto insurers and the plaintiffs' and defense bars in personal injury cases. Currently, auto insurance premiums account for $200 billion nationwide. The insurance industry, with decreased vehicle ownership and decreased liability issues on the part of the user, will find itself cut out of the equation. Allstate Corp. Chairman Thomas Wilson predicts that driverless cars will have "the most detrimental impact on auto insurance" and one "we don't want to wait" to figure it out."
About Attorney Reza Breakstone
Attorney Reza Breakstone joined Breakstone, White & Gluck as an associate in 2015.  Learn more about Reza on our website.
About Breakstone, White & Gluck
The Boston personal injury attorneys at Breakstone, White & Gluck have over 100 years combined experience handling personal injury and premises liability cases for those who have been seriously injured. If you have been injured, it is important to learn your rights. For a free legal consultation, contact us at 800-379-1244 or 617-723-7676 or use our contact form.