Attorney Marc Breakstone Settles Motorcyclist Wrongful Death Case for Family for $3.5 Million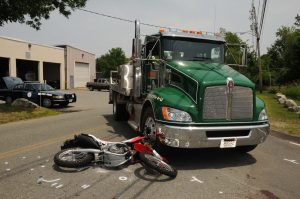 Attorney Marc Breakstone recently settled a wrongful death case for the family of a motorcyclist for $3.5 million. The case was settled in March 2016.
The motorcyclist was tragically killed by a waste disposal truck in West Bridgewater in 2013. The truck, which was being operated by a subcontractor, pulled out across the road in the path of the motorcyclist. The motorcyclist applied the brakes and laid down his motorcycle, attempting to avoid the collision and struck the defendant's truck at less than 5 mph.
The motorcyclist continued to roll under the truck. The truck driver did not see him and ran the rear tires over his body, killing him.
The truck driver should never have been behind the wheel. The driver had a "Z" restriction on his license, which prohibited him for operating any vehicles that did not have a breathalyzer interlock on the ignition. The truck had no interlock and the driver was criminally charged.
About Attorney Marc Breakstone

Marc L. Breakstone has established a reputation as one of the top medical malpractice and personal injury lawyers in New England. His record-setting settlements and verdicts have earned him the distinction of being selected as one of the Top 100 Super Lawyers in New England and Top 100 Super Lawyers in Massachusetts. He has also been selected by his peers as one of the top medical malpractice plaintiff's lawyers in the Super Lawyer balloting. In 2002, Attorney Breakstone was honored as one of ten "Lawyers of the Year" by Massachusetts Lawyers Weekly. More on Marc Breakstone.
About Breakstone, White & Gluck
The Boston personal injury attorneys at Breakstone, White & Gluck have over 100 years combined experience handling motor vehicle accident cases resulting in serious personal injury or wrongful death. If you have been injured, it is important to learn your rights. For a free legal consultation, contact us at 800-379-1244 or 617-723-7676 or use our contact form.