Defective Pool Slide Kills Woman in Andover, Mass.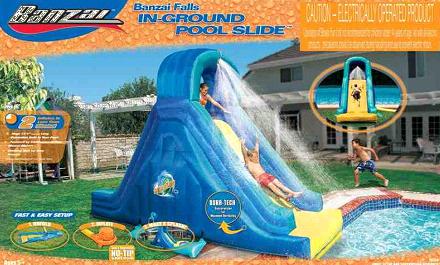 About 21,000 inflatable swimming pool slides are being recalled after the death of a 29-year-old woman in Massachusetts and two other people sustained serious personal injuries.
The Consumer Product Safety Commission (CPSC), Walmart of Bentonville, Ark. and Toys R Us Inc., of Wayne, NJ announced the recall Thursday, May 10. The Banzai inflatable water slides are designed for use with in-ground pools, but the CPSC says they pose a risk for injury. They can deflate and a user can hit the cement ground underneath the slide. The slide is also unsecure and can fall over, in both windy and still conditions. Finally, it carries inadequate warnings and instructions for users.
The CPSC is aware of one death and two serious personal injuries. In one case, a 29-year-old Colorado mother died in Andover, to the north of Boston. The woman died after going down a Banzai inflatable slide and hitting her head on the pavement below. The slide had been partially deflated.
The two injuries occurred in a similar manner, one leaving a 24-year-old man from Springfield, Mo. a quadriplegic. In a third case, an Allentown, Pa. woman fractured her neck.
The recalled pool slides were manufactured in China by Manley Toys, Ltd. and sold at Walmart and Toys R Us stores nationwide from January 2005 through June 2009. The defective product was sold for about $250. The vinyl slides have a blue base, yellow sliding mat and an arch going over the slide. The words 'Banzai Splash' are printed on the side of the defective slide.
The CPSC urges consumers to immediately stop using the defective product and return it to a Walmart or Toys R Us for a full refund. Consumers can also cut out the two safety warnings on the slide and return those for a refund. For additional information, visit www.walmart.com and www.toysrus.com.
Consumers can determine whether they have the slide by clicking here to look at pictures posted by the CPSC. If you still have the box and packaging, look for barcode number 2675315734 and model number 15734.

The Massachusetts product liability lawyers at Breakstone, White & Gluck in Boston have over 80 years combined experience at handling complex product liability cases involving serious injury and wrongful death. We have experience handling cases involving defective motor vehicles, toys, exercise equipment, medical devices and drugs. If you have been injured, learn your legal rights. For a free legal consultation, contact us today at 800-379-1244 or 617-723-7676 or use our contact form.