Study: One Child Dies in Portable Pools Every Five Days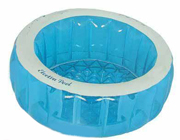 A surprising study published last month revealed that one child in the U.S. dies every five days in portable swimming pools during the warm weather months.
The study published in the journal Pediatrics challenges the popular idea that in-ground swimming pools pose a much larger safety risk. This study is significant because drowning has become the second leading cause of death among children age one to 14, according to the Centers for Disease Control and Prevention.
The study reports 209 deaths and 35 near-drownings of children under 12 in portable pools from 2001 through 2009. More than 90 percent of the children were under 5 and 81 percent of the swimming pool accidents occurred during the summer months.
The study's classification of portable pools includes small wading pools less than 18 inches deep, inflatable pools and other soft-sided pools up to four feet deep. The study was conducted by National Hospital and Independent Safety Consulting in Rockville, Maryland. Researchers say the findings are comparable to in-ground pool drownings.
Researchers say owners of portable pools often fail to take the same safety precautions as those who own in-ground pools. They set pools up quickly without taking the time to install fencing, pool alarms, safety covers and lockable ladders.
The numbers also show in many cases, children are swimming in portable pools without adult supervision. Children were supervised by parents in only 43 percent of the drownings and swimming pool accidents. Parents were home 73 percent of the time.
Read more about the study published in Pediatrics.
The Massachusetts personal injury lawyers at Breakstone, White & Gluck have over 80 years combined legal experience. We handle cases involving swimming pool accidents, drownings, wrongful death and premises liability. If you or a loved one has been injured, contact us today at 617-723-7676 or use our contact form.