Cambridge and Somerville Ranked Among Top U.S. Cycling Cities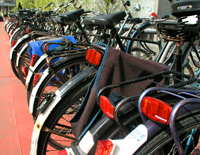 Local cyclists have long known Cambridge and Somerville offer some of the best riding in Greater Boston. But a popular website now says they are among the foremost biking destinations in the nation.
The Street.com recently released its 10 Best U.S. Bike Cities of 2011 list, naming Cambridge the fifth best bicycling city and Somerville the ninth. Boulder, Colorado was the leader.
Cambridge was praised for the strong network of bicycle lanes and shared lane space along the Massachusetts institute of Technology (MIT) campus and nearby technology companies, such as Genzyme, Sanofi Aventies, Biogen Idec and Akamai.
Cambridge bicyclists make up 8.5 percent of the city's population. The city has several bike shops. Cambridge Police are active in educating the public about taking steps to prevent bicycle accidents. The Cambridge Bicycle Committee has been working to improve safety conditions and reduce bike accidents since 1991.
Somerville was recognized for its bicycling infrastructure and the strong community support for bicyclists. Some 5 percent of the city's residents are cyclists. Many riders are college students, who account for 16 percent of the population. The city neighbors Medford, home to Tufts University, and Cambridge, where Harvard University, MIT, Leslie University and Cambridge College are all based.
Somerville was praised for its "walkable, accessible squares," and bicycle-friendly businesses, which offer Tour de France specials, bicycle valet services and benefits for local bike groups. Businesses also host an annual bike party that shuts down a portion of Davis Square.
Somerville has several bike shops and formed the Somerville Bicycle Committee in 2001. The committee has overseen development of new bike lanes, sharrows and multi-use paths to prevent bicycling accidents and personal injuries. It has also guided the development of on-street bike parking in corrals and the ongoing installation of bike racks.
To read the 10 Best U.S. Bike Cities of 2011 report, click here.
Click here to learn more about Massachusetts bicycling laws.

The Boston, Massachusetts bicycle accident lawyers at Breakstone, White & Gluck are experienced in handling collisions involving bicycles, pedestrians and motor vehicles. If you have been injured, it is critical you contact a skilled Massachusetts bike injury lawyer to learn your rights. For a free legal consultation, contact us today at 617-723-7676 or use our contact form.