Breakstone, White & Gluck was recently mentioned in Massachusetts Lawyers Weekly for our bike helmet donations to children and for attorney David White's "Volunteer of the Year" award from Boston Bikes, a program of the City of Boston.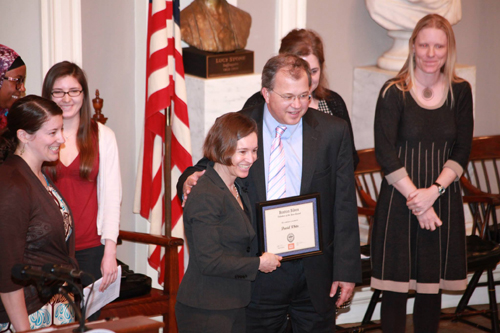 Photo credit: LivableStreets/www.livablestreets.info. Attorney David W. White of Breakstone, White & Gluck and Nicole Freedman, Director of Boston Bikes, during the 6th Annual Boston Bike Update at Faneuil Hall.
Breakstone, White & Gluck began donating bike helmets to children in 2013, giving away 1,000 bike helmets through organizations such as Boston Bikes, CYCLE Kids and Bikes Not Bombs. We also participated in events, by helping children choose the right helmets and talking to families about bike safety. We are back at it in 2014 and now approaching 2,000 helmet donations.
Attorney David White has worked closely with Boston Bikes, which fixes up used bikes for city residents who need one, including children. White has helped fit the children's helmets at bike giveaway events and Boston Bikes has called him "our helmet station guru."
Our other partners in 2014:
Boston Bikes' Roll It Forward
iCan Shine Camp Arlington
Framingham Bicycle and Pedestrian Committee and Framingham Earth Day
Westborough Bicycle and Pedestrian Committee
Lexington Bicycle Advisory Committee
Worcester Earn-a-Bike
Thompson School, East Arlington and East Arlington Livable Streets
The Kiwanis of Somerville Ashland Farmer's Market
CYCLE Kids
Watertown Bicycle and Pedestrian Committee and Watertown Farmer's Market
Dedham Bike Rodeo Boston Cyclists Union
Bikes Not Bombs

About Breakstone, White & Gluck
The Boston personal injury lawyers at Breakstone, White & Gluck are committed to safety for cyclists and have a proven record of experience in representing injured cyclists. If you have been injured in a bicycling accident, learn your rights. For a free legal consultation, contact us at 800-379-1244 or 617-723-7676 or use our contact form.