Breakstone, White & Gluck Donates 300 Bicycle Helmets to Help Somerville Students Ride Safe
Attorney Marc Breakstone visited Somerville yesterday to help distribute new bicycle helmets to fifth-graders. But first he wanted to talk about their commitment to bicycle safety. "Is everyone ready to take a pledge?" he asked.
Click the video to watch:
For the third year, Breakstone, White & Gluck was pleased to donate 300 bicycle helmets to fifth graders in Somerville schools who completed the CYCLE Kids curriculum, which teaches bicycle riding and safety. Attorney Breakstone visited with about 60 students at the Dr. Albert F. Argenziano School at Lincoln Park and helped hand out the new bicycle helmets and certificates of completion for the CYCLE Kids training program.
Breakstone, White & Gluck is committed to helping children ride bicycles safely. Since 2013, we have donated over 10,000 bicycle helmets as part of our Project KidSafe campaign. Every year has brought a donation in Somerville, which actively promotes bicycle safety for children, through the schools, dedicated school resource officers and community organizations which promote safety events.
Our goal is simple: to encourage children to wear helmets and prevent head injuries in falls and bicycle accidents. Massachusetts law requires cyclists who are 16 years old and younger to wear bicycle helmets, though it is recommended for cyclists of all ages.
CYCLE Kids is a Cambridge non-profit organization which provides bicycle safety and nutrition curriculum for schools across the country. Locally, Cambridge and Somerville schools teach the curriculum in physical education classes.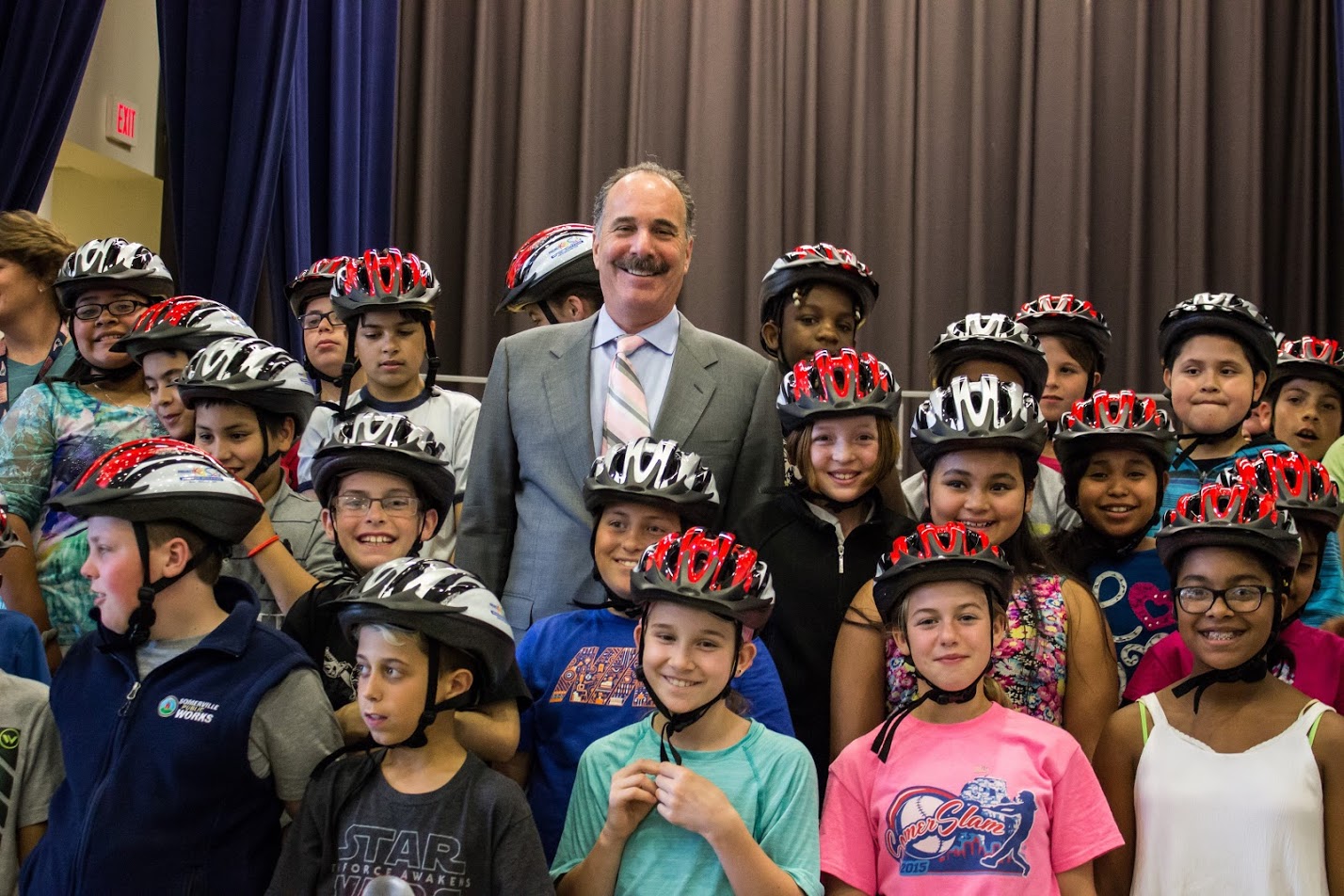 Attorney Marc Breakstone with the fifth-graders from the Dr. Albert F. Argenziano School in Somerville. 
The Somerville fifth graders who completed the CYCLE Kids curriculum learned how to ride a bicycle, safety skills such as wearing a helmet and using hand signals and nutrition fundamentals. Students are also encouraged to share their experience – and any fears they have – through essay writing.
"It can be scary for the kids who don't know how to ride," physical education Kris Savage said. "It is a brave thing for them to ride in front of their peers."
Breakstone, White & Gluck coordinated the donation with CYCLE Kids, Somerville Public Schools and Somerville Police Officer Marianne Manfra. Attorney Breakstone, Officer Manfra and Kris Savage, physical education teacher at the Argenziano School, handed out the new Project KidSafe bike helmets to the children.
This year, we learned one of the fifth-graders who received a new bicycle helmet had taken his own steps for bike safety for his school and classmates. Caleb Piehl won the Saris National Bicycle Poster Contest last fall. As part of his prize, he won a trip to the National Bike Summit in Washington D.C. in March, a new Scwhinn bicycle, safety gear and a great prize for the school: a new 20-rack bicycle parking system that can track users' mileage.
About Breakstone, White & Gluck
Breakstone, White & Gluck is a Boston personal injury law firm which is committed to the safety of all bicyclists in Massachusetts. We have over 100 years combined experience representing bicyclists injured by the negligence of others. If you, or a member of your family, has been injured in a bicycle incident, please feel free to contact us for a free legal consultation at 800-379-1244 or 617-723-7676 or use our contact form. Thank you and RIDE SAFE!